Private label
Since 2001, we have supplied large retail chains with private label products. We are able to produce the very goods requested by our customers. We offer full service within the entire private label process and manage e.g. quality control, manufacture of production equipment and product manuals, customs clearance and delivery.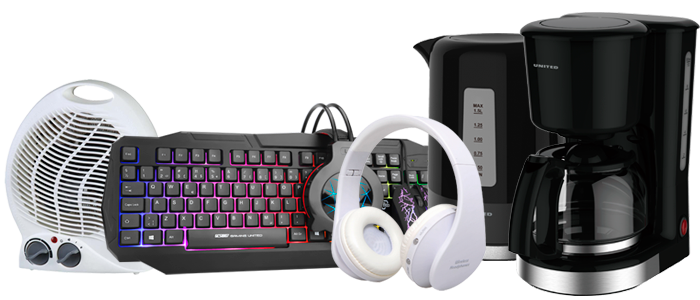 Individual solutions
A large part of our private label production is within our own brand, UNITED, but we can produce all products according to individual customer requests. Decades of experience within private label production guarantee a uniform, high quality level at prices that ultimately give the consumer a better experience than anticipated.
The majority of our private label production is in cooperation with our own partner company in the Far East that has existed since 1991. The partnership is based on trust and has existed for more than 20 years and builds on mutual respect. Among other things, we do our own quality control of all goods before shipment.
If you would like to know more about private label products via Dangaard, please feel free to contact our Far East department.
Your private label benefits:
Possibility for in-house brands
Flexibility re. product characteristics
High quality level
Attractive prices
Large selection
Centralised or decentralised delivery
Possibility for FOB purchases
Experienced full-service partner
The private label category consists of:
Gaming Accessories
Keyboard
Mouse
Headset
Mousepad
Combo Set
Gaming Chair
Gaming Tables
Smart Home
WI-FI Bulbs
WI-FI Power Sockets
WI-FI Power Strips
WI-FI Thermostat Controllers
WI-FI Hubs
WI-FI Surveillance Cameras
Toys
Soft Guns & Laser Battle Sets
Games
R/C Toys – Drones & Cars
Garden & Outdoor
Garden Tools
All Kinds of Garden & Outdoor Products
Solar Light Products
Outdoor Light Products
Kitchen
All Kinds of Kitchen Products
Consumer Electronics
BT Speakers
BT Trolley Speakers
Tower Speakers
Power Banks
VR Glasses
Augmented Reality Products
Action Cameras
Dashcams
Smartwatches
Headlamps
LED lighting products
PC accessories
Wireless Chargers
Charging Cables
Power Adapters
Car Chargers
Car Mobile Phone Holders
Charging Cables
Mobile Phone Case / Covers
Electronic Gadgets
Walkie Talkies
3D Pens
LED Lamps
Disco Lights
Christmas
Christmas Light Products – Indoor & Outdoor
Christmas Decoration
SDA – small domestic appliances
Coffee Makers
Water Kettles
Toasters
Blenders
Hand Blenders
Hand Mixers
Choppers
Sandwich Makers
Smoothie-To-Go
Electric Knives
Popcorn Makers
Ice Cream Makers
Slush Ice Makers
Soft Ice Makers
Chocolate Fountains
Waffle Makers
Donut Makers
Pop Cake Makers
Cup Cake Makers
Brownie Makers
Crepe Makers
Candy Floss Makers
Electric Pizza Pans
Heating & Cooling Products
Terrace Heaters
Indoor Heaters
Fans
USB-Fans
Air Coolers
Mini Air Coolers
Personal Care
Hairdryers
Flatirons
Curling Irons
Manicure Sets
Pedicure Sets
Hair Straightener Brush
Multifunction Hairstylers
Make-up Mirrors w/LED Light
Outdoor & Leisure
Inflatable Beds
Inflatable Chairs
Swimmingpools
Airbeds
E-Scooters
Hoverboards
Skateboards
Kickbikes
Stunt Kickbikes
BBQ
Charcoal Grills
Gas Grills
BBQ Accessories
Car
All Kinds of Car Accessories
Pet
All Kinds of Dog & Cat Accessories
We carry all the major A brands requested by your customers
Find the products that you and your customers know and trust.
Why experiment when you can get what works the best for you and your customers? We cooperate with a large network of suppliers and producers and always offer the best and most attractive products at prices unheard of. We offer you one-point-of-contact to give you access to hundreds of well-known brands.
See our attractive product categories
Our strong brands and comprehensive product categories provide you with unique opportunities to expand your own range while increasing your turnover.

We have basically everything within non-food - from frying pans to a large range of high-tech products.

You name it – we get it!
[PRODUKTLISTE]
We look forward to hearing from you