Cleaning
Our range within cleaning is thanks to long-standing and close relations to the producers/brand holders of many of the most well-known and favoured brands. Dangaard is a reliable supplier with focus on the customer's needs. We use our insight into the distribution channels and markets and do our best to meet special requests.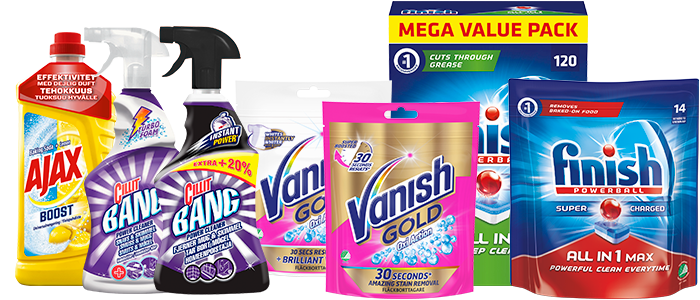 The cleaning category consists of
Laundry
Household
Toiletpaper/kitchen towels
Sustainable
Ecofriendly
Home fragrances
Finish
Neophos
Vanish
Cillit Bang
Ajax
Neutral
Harpic
OMO
Airpure
Probat
Lotus
Wrappy
Ecoegg
We carry all the major A brands requested by your customers
Find the products that you and your customers know and trust.
Why experiment when you can get what works the best for you and your customers? We cooperate with a large network of suppliers and producers and always offer the best and most attractive products at prices unheard of. We offer you one-point-of-contact to give you access to hundreds of well-known brands.
See our attractive product categories
Our strong brands and comprehensive product categories provide you with unique opportunities to expand your own range while increasing your turnover.

We have basically everything within non-food - from frying pans to a large range of high-tech products.

You name it – we get it!
[PRODUKTLISTE]
We look forward to hearing from you